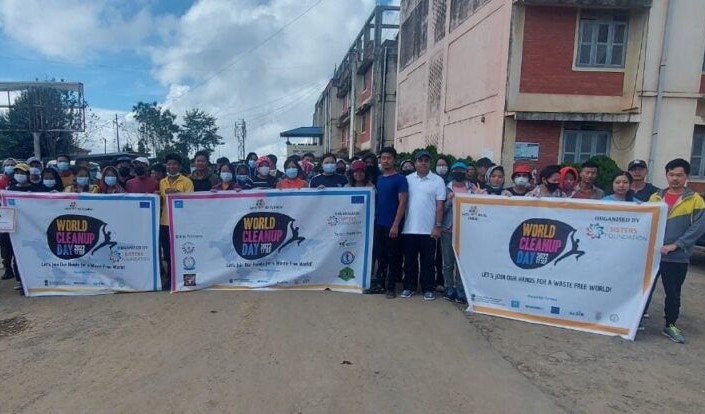 7 Sisters Foundation raises awareness about waste management in Ukhrul
Ukhrul observed World Cleanup Day by organising a cleanliness drive in Ukhrul Headquarters in collaboration with Ukhrul Police, ENFOGAL, IHAO, Lungharwo Services, Tribalgoo, Chiko, Adventures, Konghang Ngayi Youth, and Phungyo Baptist Church Youth.
Joining forces for a waste-free world and a clean planet, 7 Sisters Foundation organised a cleanliness drive at Ukhrul Headquarters on September 17 as part of World Cleanup Day.
Sunny Shimrah, Director of the 7 Sisters Foundation, stated that "the purpose of taking up such initiative is to create awareness on waste management and safe waste disposal." Sunny Shimrah expressed gratitude to everyone who helped with the cleanliness campaign.
The cleanliness drive was attended by Additional SP (Ops) Samir, Additional SP (Law and Order), Syed Samad, and rank and file members of the Ukhrul Police. ADC Ukhrul provided two truck dipper for the safe disposal of the volunteers' waste.
Many volunteers from Ukhrul Headquarters' various locations responded by taking part in the cleanliness drive, which began at Phungreitang and ended at the Mini Secretariat Complex. Two truckloads of waste were collected and disposed of at the ADC Ukhrul disposal site.